This site may require
Quick Time to view videos or
hear audio clips

It's a free and simple install download

QUICK TIME
SLIM OF THE MONTH
" UNCLE SLIM SEZ : In the Holler if a MULE begins to bay for no apparent reason and keeps it up, the Holler Folk become uneasy and sometimes setting off a wild craze of firing blindly into flocks of chickens."
---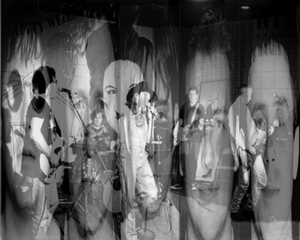 JOHNNY
HAMMER

BROTHER
RICH

BUDDY
RUSH

COUSIN
KALEY

REVEREND BART

MIX 2/3 PARTS PURE ROCK N ROLL, 1/3 PART HOLLOW FOLK LORE,
ADD LEAD VOCALS/HARMONICA -BUDDY RUSH,
GUITAR/VOCALS - JOHNNY HAMMER,
GUITARIST - REVEREND BART,
DRUMS - BROTHER RICH,
BASS - COUSINí KALEY.
A DASH OF PSYCHO HOLLER ATTITUDE, HAIR OF A MULE,
A PINCH OF GRUNGE, COUNTRY, AND PUNK INFLUENCES,
AND FROM THE SMOKE EMERGES
ONE OF NASHVILLEíS MOST ORIGINAL AND
CONCEPTUAL ROCK BANDS,

UNCLE SLIM
THEIR STAGE SHOW IS UNLIKE ANY OTHER BAND FROM ANY HOLLER

DON'T MISS
THE SLIM HOLLOW ROCK OPERA
OR
THE LIVE MULE BOY
---
FOR BOOKINGS CONTACT

JUNCTION ENTERTAINMENT


615 . 860 . 8687
---
UNCLE SLIM MULE SWAG AND GENERAL STORE

The SLIM HOLLOW ROCK OPERA CD
and
SAVE THE MULES * T - SHIRTS

Front
( Small Pocket Logo )

Back
( Logo Covers Back of Shirt )
---
JOIN THE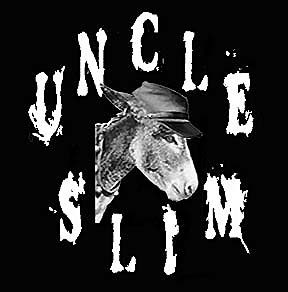 FAN CLUB

---

" YOU CAN SLIM AN EARL , EARL A WILLIS ,
WILLIS A JACKSON ; BUT SIMPSON IS EVIL "
JUNCTION RECORDS
(UNCLE SLIM'S LABEL)

JUNCTION ENTERTAINMENT
UNCLE SLIM'S BOOKING AGENT